St Agnes Carnival 2023
Welcome to St Agnes Carnival. The St. Agnes Carnival tradition dates back many years, to the time when the village streets would have been lined with miners and fishermen, bal-maidens and fishwives. What makes St Agnes Carnival such fun? It's about the local community spirit.
This website gives the key information for the St Agnes Carnival, but please do follow our Facebook Page https://www.facebook.com/stagnescarnival to see the most up to date information and check out what we get up to.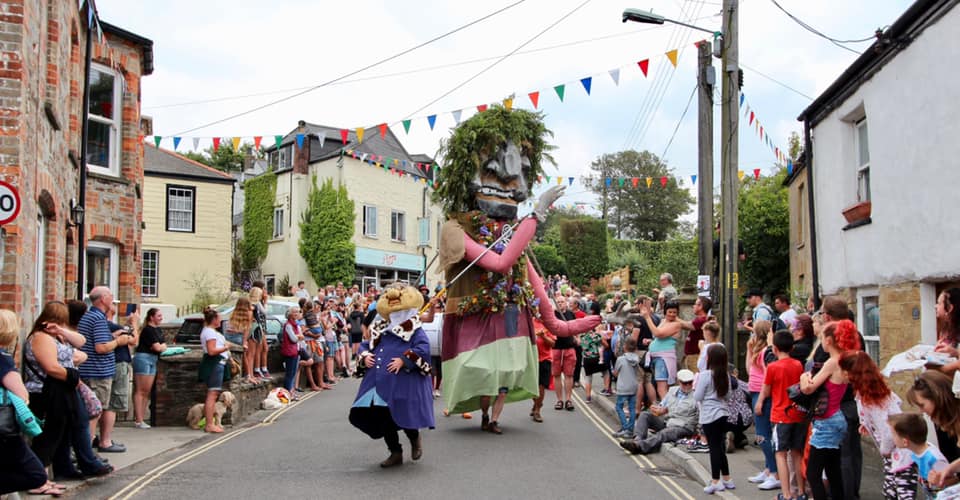 This year, the procession will begin at 5:00pm on Saturday 5th August 2023 from the carnival field on Goonvrea Road, St Agnes and travel through Church Town, along Trevaunance Road, finishing at the St Agnes Sports Club, Enys Park, Saint Agnes TR5 0SS for the carnival prize giving, some live music, bar and food.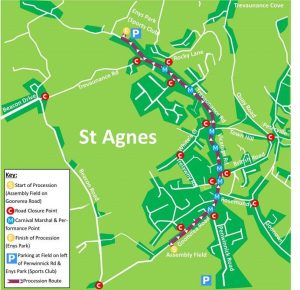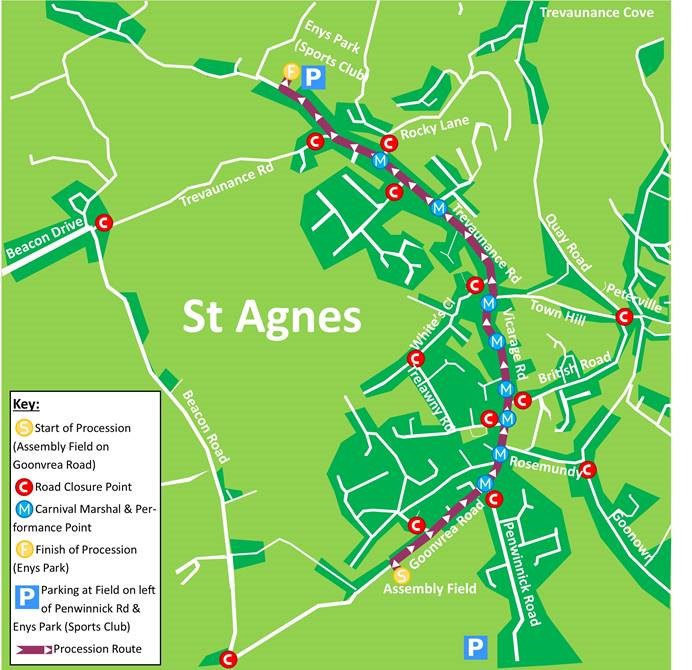 Winding through the village streets, you will see an enthusiastic and exciting procession of fancy dress, local bands and people of all ages having a great time! Clever floats, great ingenuity, even dance routines, all led by the famous Giant Bolster!
The St Agnes Carnival is the highlight of the year, not only for the people of St Agnes parish, but also for holiday-makers- many of whom even book their holidays to coincide with that magic first week in August! We cannot wait to bring even more fun after the success of our procession in 2022.
Join us for the procession beginning at the Carnival field on Goonvrea Road, St Agnes at 5:00pm on Saturday 5th August 2023. We cannot wait to see you there!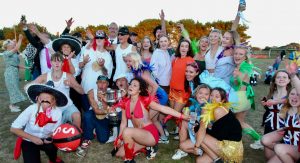 How You Can Help Keep The Tradition Alive
The St Agnes Carnival is such a wonderful tradition for our village. Did you know it usually costs around £5000- £6000 to put the event on? Click here to see how we use funds to put on the carnival.
See below to view the many ways you can support us in keeping the carnival going each year.
Attend the Carnival
The procession begins at 5:00pm on Saturday 5th August 2023.
The carnival starts at Goonvrea Road, travels towards Church Town and takes a left at the Bakery. It then continues along Trevaunance Road and reaches the St Agnes Rugby Club, where there will be the procession prize giving, live music and refreshments available for an 'after-procession' party. So please arrive early to get the best spot, have fun and BE SAFE!
During the procession, our volunteers and carnival entries will be carrying buckets for donations and they will also have QR codes available linked to our Go Fund Me page, so you can still support the event even if you have no cash.
Fundraise
Not only do we want to keep the St Agnes Carnival afloat, we would love to make this year's carnival even better than before. If you haven't done so already, please visit our new Go Fund Me page, where you have the option to donate whatever you can afford. We are a non-profit organisation, so all money raised will be used to ensure everything is in place for the event. Plus, if there are any funds leftover, we put that straight towards next year's carnival planning and running costs.
You could also host your own local event to help us raise the funds we need. Get in touch with our fundraising events officer  Neil Clifton neilclifton14@gmail.com to discuss your ideas.
Enter the Carnival
Locals, get your act together and enter the Carnival Procession. It really is such a great way to showcase your business or a club you run, plus a fantastic way to be part of such a wonderful, local tradition. Paper copies of the entry forms will be available in many of the village stores soon (watch this space!) and it's never, or almost never, too late to enter. Click here for more information and to download the entry.
Join our Carnival Committee
Why not join the St Agnes Carnival Committee, where you will be warmly welcomed by a very friendly group. Perhaps you would like to help with the organising of the carnival fundraising events throughout the year? Or maybe you want to be a part of decorating the carnival float or help with putting up the festival bunting throughout the village? You might like to be an extra pair of hands on the carnival day itself? You don't need any experience, just  the time to make one meeting a month, with a little extra effort leading up to the Carnival day.
Contact for more information or click here to visit our Facebook page for the most up-to-date information and announcements from our committee.
Sponsor the Event
When customers or clients see evidence of your social responsibility, they tend to respond positively. By sponsoring the carnival, it can increase your business' exposure, through our event's online marketing and advertising.
There are multiple ways you and your business can sponsor our event, including:
Offering a one-off donation
Pledging to match donations made at your event
Providing resources to support your event (for example, a venue, advertising, or equipment)
Offering company volunteers
Donating products or services to raise money
Please contact j.hartley55@btinternet.com for more information about sponsoring the St Agnes Carnival this year.